Bigger is better is our motto, and here at Nuneaton Hummer Hire, you can never have big enough. That's why we're offering the UK's largest Hummers for hire. Our stretch Hummer Limo can hold up to 16 passengers. That's twice as many people as a traditional limousine! Available in colours black, white and silver, our Hummer Limousines are exactly what you need to throw the most fabulous party ever! Arrive, or leave, in absolute class, or just throw your party in the back of the Hummer. The Black Monster Hummer is one of our most frequently hired hummers, a party and wedding classic!
White Hummer
Our White Hummer Hire is one of our most popular choices for wedding Hummer hire. If you're looking for a hummer to rent for your special occasion, our white Hummers are classy, stylish and luxurious! Each one of our 16 passenger stretch Hummers is outfitted with a full mood colour changing roof, two bars, multiple TV screens, DVD/CD player and more!
Hummer Hire Nuneaton specializes in the big, the bold and the luxurious. Girl's night out, Hen Party, Stag Party, formal event, Business event, whatever the occasion, our White Hummer Hire is the service you need to impress your guests!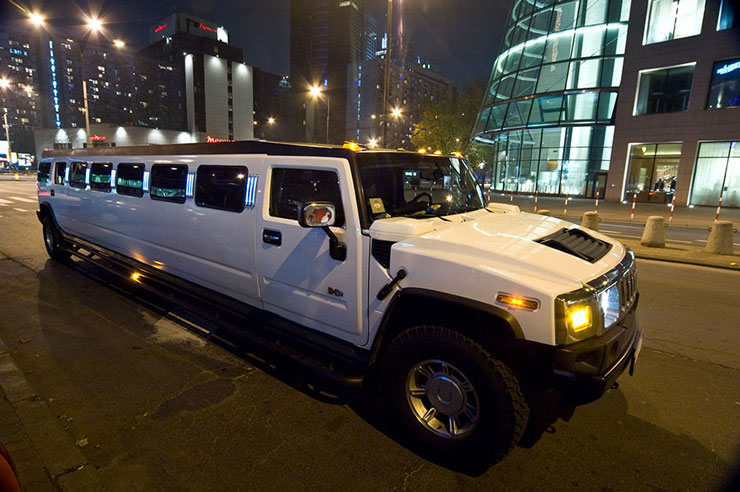 Have the time of your life in the back of a White Monster Hummer with your own minibar and television. Travel to and from your event in style, or just throw your party in the back! There's plenty of room for a party of up to 16!
Travel in luxury to any destination, or have the best birthday party ever in the back of one of our White Hummers! Limo Hummer Hire Nuneaton offers excellent service, attention to detail and head-turning monster Hummers that will make your event unforgettable.
If you need to hire a White Monster Hummer for any occasion, don't hesitate to call us at 02476 620442!
LAZERS VIP AREA TWO BARS PRIVACY GLASS CHROME WHEELS AIR CONDITIONING LEATHER IINTERIOR MEGA SOUND SYSTEM FOUR TVs - DVDs - CD STROBE MOOD LIGHTING NEON and DISCO LIGHTS FREE SOFT DRINKS & BUBBLY
HIRE A HUMMER FOR:
Hummer Limos for Weddings
Hummer Limos for Company Functions
Marketing, Advertising and Promotional Programs
Hummer Limos for transport to and from nightclubs
Hummer Limos for Hens or Stag nights
Hummer Limos for Music Videos
Hummer Limos for Formals and Graduations
Hummer Limos for Special Occasions
Hummer Limos for Restaurant Partys
Hummer Limos for Birthdays
Hummer Limo for ANY OCCASION NO MATTER HOW BIG OR SMALL
We are covered, licensed as a PSV operator
There are very few limousine types that are currently compliant with COIF, which is an inspection carried out by VOSA to check that a vehicle with more than 8 passenger seats complies with GB construction requirements, and is a requirement for a limousine used for carrying paying passengers.