Bigger is better is our motto, and here at Nuneaton Hummer Hire, you can never have big enough. That's why we're offering the UK's largest Hummers for hire. Our stretch Hummer Limo can hold up to 16 passengers. That's twice as many people as a traditional limousine! Available in colours black, white and silver, our Hummer Limousines are exactly what you need to throw the most fabulous party ever! Arrive, or leave, in absolute class, or just throw your party in the back of the Hummer. The Black Monster Hummer is one of our most frequently hired hummers, a party and wedding classic!
Silver Hummer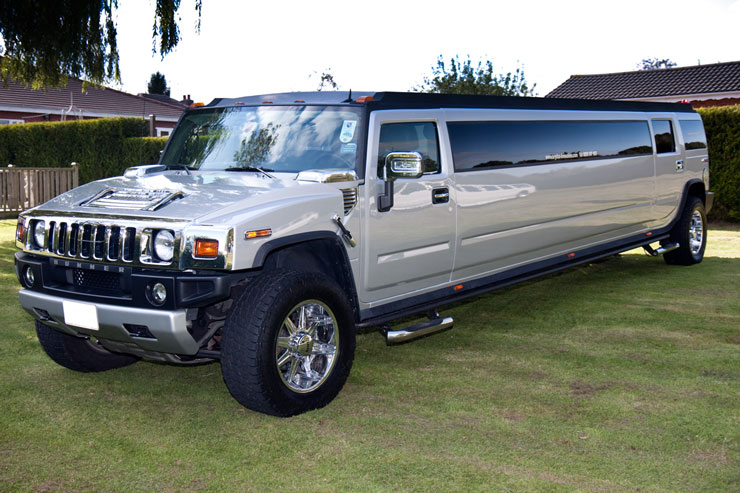 If you're looking for Nuneaton Hummer Hire Silver, then you've found the right place. We offer Silver stretch Hummers for all occasions, including weddings, Hen nights, stag nights, business trips and more. Imagine rolling into the lot of your favourite club in one of the largest vehicles on the road, or driving away in it. You can live like a superstar when you rent our Silver Monster Hummer
H2 Monster Hummer -
Silver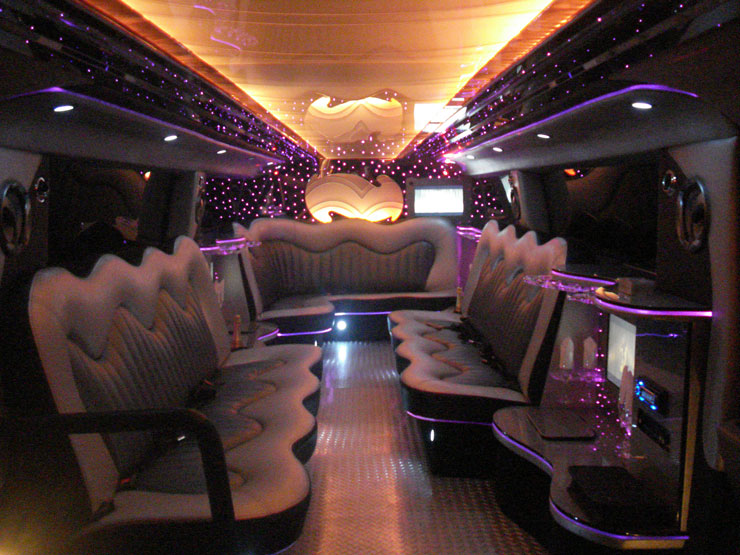 Monster Hummer 165 Stretch With massive Chrome Wheels.
In fact, our silver Hummers are the largest in the UK. If you have a party, what better way to impress your guests than with one of our huge, 16 seat Silver Hummers for hire?
With mirrored mood light ceilings, 2 bars, television screens, CD/DVD player, and even free champagne and soft drinks, there's no better place to celebrate your event then in the back of one of our silver Hummers.
Our Hummer Hire Silver is available for all occasions. You can rent one of our 16 seat Hummers for your wedding or your night out on the town; your choice. Be a superstar and have the time of your life, or drive off to your honeymoon in style. We are happy to accommodate all occasions with our flexible Hummer hire.
If you need our Hummer Hire Silver, don't wait, call us and book one at 02476 620442.
SURROUND SOUND INFINITY SYSTEM · SATELITE NAVIGATION · MEGA SOUND SYSTEM · WIDE SCREEN TVs · SMOKE MACHINE · PRIVACY GLASS · DVD PLAYER · FREE BUBBLY
HIRE A HUMMER FOR:
Hummer Limos for Weddings
Hummer Limos for Company Functions
Marketing, Advertising and Promotional Programs
Hummer Limos for transport to and from nightclubs
Hummer Limos for Hens or Stag nights
Hummer Limos for Music Videos
Hummer Limos for Formals and Graduations
Hummer Limos for Special Occasions
Hummer Limos for Restaurant Partys
Hummer Limos for Birthdays
Hummer Limo for ANY OCCASION NO MATTER HOW BIG OR SMALL
We are covered, licensed as a PSV operator
There are very few limousine types that are currently compliant with COIF, which is an inspection carried out by VOSA to check that a vehicle with more than 8 passenger seats complies with GB construction requirements, and is a requirement for a limousine used for carrying paying passengers.